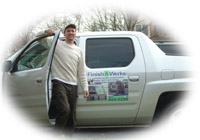 We are frank and friendly online,

in person, and on our jobsites -
if you prefer platitudes & window

dressing,

please look elsewhere.
Thank you!
We recognize the importance, and respect the privacy, of your information. As a Maryland Homes Builder registered with States Attorney General, we adhere to strict professional standards, and as a company, we hold ourselves to the highest level of integrity. The following describes what types of information we collect, under what circumstances that information is disclosed, and how we protect your information.

What Types of Information We Collect

In the course of serving your home building needs, we may collect the following information from you or from those whom you authorize: 1) contact information, such as name, telephone number and e-mail address; 2) legal agreements, such as home building contracts and addenda; 3) account information, such as bank or investment accounts for construction draws or escrow holdings; and 4) activity on our website, such as visits or system characteristics.

Under What Circumstances Information Is Disclosed

Other than sharing with our manufacturer, Professional Building Systems, we do not disclose your information without your consent, except as permitted by law. We may disclose your information in connection with a review of our compliance with professional standards, but then only as required by law.

How We Protect Your Information

We maintain physical, electronic, and procedural safeguards to protect your information. Should you become a former client, we will continue to protect the privacy your information.
In conclusion, Finish Werks is committed to maintaining the confidentiality of your information, and we value the trust you have placed in us. Please call us anytime you have questions, or if we may be of further service.